The GracieStrong Foundation, in partnership with KHTS Radio Station, The Santa Clarita Grocery, and Real Life Church, will be hosting our 5th Annual Caroling with Gracie Fundraiser Car Parade on Saturday December 9th, 2023.
We will again be collecting canned good items for The Santa Clarita Grocery to help those in need in our community, while driving in a car parade and singing Christmas Carols. Caroling Music will be live streamed by KHTS Radio.
Volunteers & CWG Ambassadors wanted! If you would like to Volunteer, please Contact Us here.
This is being brought to you by The GracieStrong Foundation and our title Sponsor - KHTS Radio Station.
EVENT DETAILS:
We will meet at Real Life Church in Valencia at 4pm on Saturday, December 9th, 2023, to get setup.  Then we will depart at 5pm sharp and begin our caroling car parade from 5-7pm.  Christmas Carols will be streaming via KHTS Radio Station (commercial free!).
We will collect canned goods and food items during our parade to help those in need in the Santa Clarita Valley.  
Please make sure to have your canned goods at the curbside in front of your house by 5pm so that we can collect them as we drive by. We are hoping to make a big impact in our community so please help out if you can. It means so much to those in need especially this time of year!
Volunteers & CWG Ambassadors wanted to help with this community event.  Please CONTACT US if you'd like to help out.
AREAS BEING VISITED:
We will be will be visiting the Lower Northbridge Community.
The Route can be found here:  Caroling With Gracie 2023 Parade Route
SCHEDULE:
December 9, 2023 - 4-7pm
4:00PM - Meet @ Real Life Church (see map below). We will meet here, arrange the car parade, and depart.
4:50PM - Tune into KHTS Radio 98.1 FM or AM 1220. They will be broadcasting our Christmas Carol Music. The music list is listed below.
5:00PM - 7:00PM -  Depart and head to the Northbridge Neighborhood, Sing Christmas Carols, and Collect Canned Goods for Santa Clarita Grocery
We estimate that we will be on the East Side of Grandview from 5pm - 6:20pm, and then on the West Side of Grandview from 6:20pm - 7:00pm.
7:00PM - Wrap Up back at Real Life Church and the trucks will take the canned goods over to the Santa Clarita Grocery warehouse.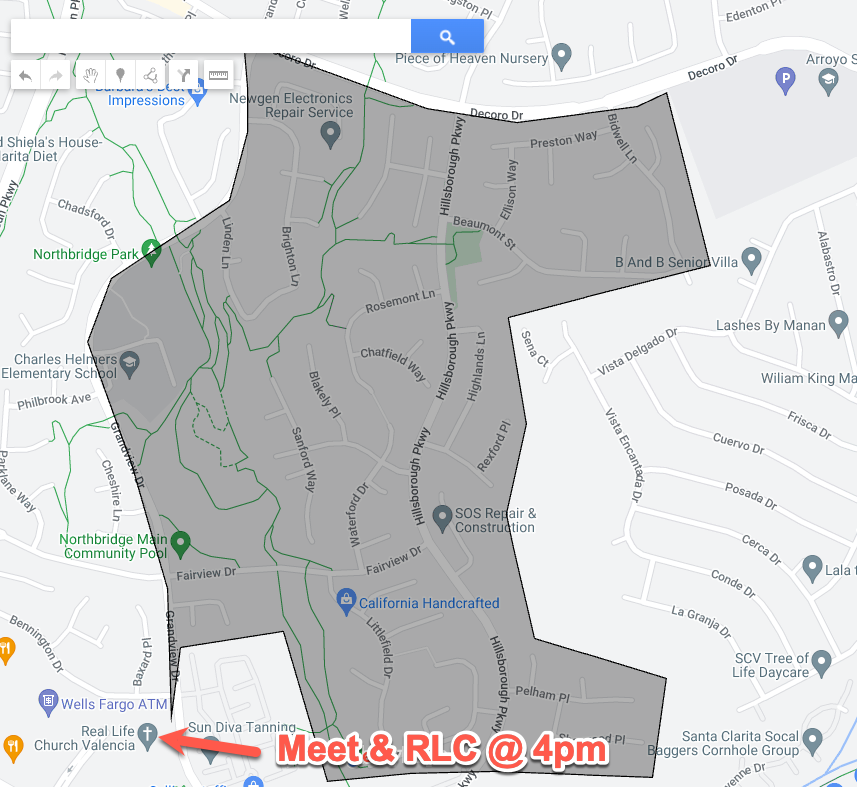 CLICK HERE FOR DETAILED ROUTE MAP
MUSIC:
Tentative Song List (order subject to change):
Holly Jolly Christmas - Burl Ives
Frosty the Snowman - Willie Nelson
Jingle Bell Rock - Bobby Helms
Jingle Bells - Ray Connniff - Matt Maher
Deck the Halls - Nat King Cole - Commodores
Rudolph The Red Nosed Reindeer - Bing Crosby - Gene Autry
Go Tell It to the Mountain - Josh Turner - MercyMe
The First Noel - Andy Williams - Josh Groban
Joy to the World - Nat King Cole
Silent Night - Kelly Clarkson
We Wish You A Merry Christmas - Love to Sing
Hark the Herald Angels Sing - Carrie Underwood
Here we come a caroling - Perry Como
Santa Claus is coming to town - Frank Sinatra
Away in a Manger - Carrie Underwood
Have yourself a Merry Little Christmas - Frank Sinatra